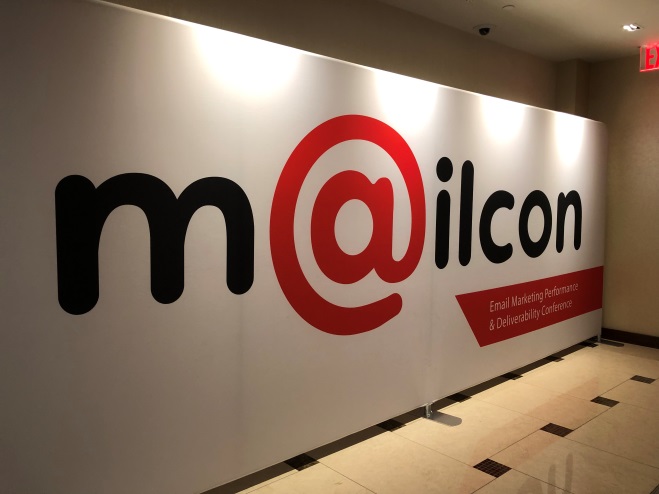 LashBack Presents at Mailcon NY 2019
In August, several members of the LashBack team attended the Mailcon and Affiliate Summit East conferences in New York. The conferences provide a great opportunity for our team to meet with clients and contacts, and stay on top of what is going on in the world of digital marketing. It was a busy few days with lots of productive meetings and conversations.
As in previous years, LashBack CEO Peter Wilson gave a presentation at Mailcon, diving into the deep reservoir of LashBack data to find unique and actionable insights for the audience. This year's presentation, "A Deeper Look at the Consumer Experience" contained an overview of some of the trends in email quality and delivery, with an emphasis on how different emailing practices are viewed by consumers. Building upon previous Mailcon presentations, some common themes around quality and prioritizing the consumer experience were explored with detailed examples. As the data continues to show us, the influence of greater transparency driven by technology and consumer expectation are sure to have an effect on the business practices of effective marketers.
LashBack has long been a proponent for best practices in email marketing and many of the trends in this presentation point to the fact that the market is evolving towards greater consumer control of their own data. We believe this presents opportunities for innovation. It is critical for businesses to invest in strong business intelligence tools to take advantage of the increased emphasis on consumer experience. Progressive and adaptive firms will be there ahead of any laws or regulations that might come to force the industry towards these outcomes.
With examples that cover the consumer experience in terms of quality, relevance, volume and trust, there is a lot to learn from this presentation. We will be diving more deeply into some of the individual themes of the presentation in subsequent blog posts. For now you can find the full presentation here:
LashBack Presentation at Mailcon August 2019 from LashBack, LLC